The CELTA course I did at AVO met all my expectations and was well worth the hard work. The tutors created an atmosphere that was friendly and positive promoting constructive ideas and support, which made the training enjoyable and truly gratifying despite the big work load. They showed great concern and understanding of the different needs of every trainee and ensured everybody's improvement in a highly professional manner. I found the input sessions useful. Given by different tutors, there was a good variety of presentation techniques, interaction patterns and topics. Stanimira, CELTA

Dr. Galya Mateva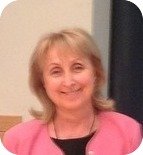 Hi, I'm Galya and I am your CELTA and DELTA course director. I am a highly experienced English teacher and teacher trainer and I hold an MA in English from Sofia University and PhD in English Pedagogy from Moscow Academy of Pedagogical Sciences.
I have been with AVO since the very start of the CELTA/DELTA project in 2002. I have been training CELTA/DELTA trainees but also CELTA tutors and after each course I was struck by one amazing fact. All candidates, no exception, knew perfectly well why they had come to Sofia and nowhere else, why precisely they needed the qualification and how prepared they were to follow the strict requirements. Motivation and devotion have always been the secret to our success story.

For me personally, with my humanistic (suggestopedic) background and philosophy, "Caring and Sharing" has always been a guiding principle. To care about everyone, to share knowledge, skills and feelings in the classroom. To work in a team. Caring, sharing and learning. My hobby. The secret of the trade. It's as simple as that.
Albena Vitanova

I've spent half of my life learning English and the other half - teaching (and still learning) English. I have an MA in English Philology from Sofia University and Cambridge DELTA. For the last 8 years I have been a teacher trainer at AVO and, since 2004, a CELTA tutor.
CELTA courses have always been a source of inspiration for me and have given me the chance to meet lots of bright and motivated trainees from all over the world.
Paul Whitney
Hi! I have 15 years' experience teaching English in several European countries and have worked for several institutions, various companies and schools. I have taught all levels and all types of courses but at the moment am working mainly on preparing Bulgarian teenagers to take Cambridge exams. I am DELTA qualified and a Cambridge oral examiner. Being a CELTA tutor is definitely a rewarding experience and you get to meet people from all over the world and share experiences. In my spare time I love travelling, listening to and making music and photography.
Daniel Klukowski
Hello. My name is Daniel and I've been a teacher for over 15 years. I've worked in a few European countries in various teaching environments, e.g. running courses for children and teenagers at summer camps in England. For the past 5 years I've been working for AVO, Sofia as an English teacher and teacher trainer. I'm DELTA qualified and also a Cambridge oral examiner. In my free time I enjoy reading books while drinking coffee in my favourite café. I also love playing football with my friends. I'm looking forward to meeting you at one of our courses.
Svetla Tashevska
People I have worked with know me in many different capacities – as teacher of English, in-service teacher trainer, university language teaching methodologist, mentor, mentor-trainer, CELTA and DELTA trainer, project team member. No matter how varied the roles have been though, they all have one thing in common – a dedicated person, with a genuine interest in learning. I enjoy teaching and assisting people in their learning. It is so rewarding to see the small cocoon turn into a fully-grown butterfly and to take part in facilitating the process…
I love the mountains and although I do not go caving and climbing any more, every now and then I try to escape from the busy city life to the cool and beauty of the Balkan, Rila, Pirin or Vitosha.