There are four main components: teaching practice, observation, input sessions and written work.
In the input sessions we all collaborated and learned together; we shared our experience which was both fruitful and fun. I found the feedback sessions of particular help for further improving my teaching. The tutors at AVO-Bell are real professionals who dedicate their time and effort to give us a really constructive feedback with lots of useful ideas and helpful suggestions. Diana, CELTA
I really liked the blended learning format. Having online input sessions also taught me how I could teach online lessons. Slavi, CELTA
• Teaching practice (TP)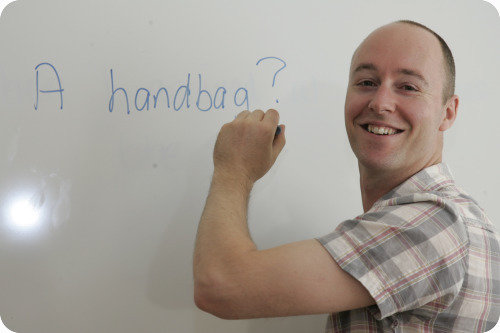 Each trainee will have 6 hours of TP over the course. There will normally be between 6 and 8 trainees on a course and TP is organised in two groups. The students will be at different levels, ranging from elementary to upper-intermediate. TP is observed by a trainer and by the members of the TP group. The groups rotate during the course, so teaching is assessed at two or three contrasting levels.
Supervised Lesson Planning is an opportunity for trainees to talk to TP supervisors about the lesson they intend to teach the following day/week. At the beginning of the course, trainees receive detailed guidelines from their supervisors as to content and appropriate procedures for their TP lessons. This guidance gradually diminishes as the course goes on and TP groups become responsible for planning and preparing their own lessons.
Feedback on TP is given in the form of summary notes from the supervisor and in a post-lesson discussion with the supervisor and the rest of the TP group.
•

Observation
Each trainee will observe 6 hours of teaching (live, on-line and video-taped lessons) done by experienced teachers in addition to observing fellow trainees during TP. Observation is organised so that trainees have the opportunity initially to see classes at the level that they are teaching in TP. Although trainees are not required to teach beginners or very advanced students, they will have the chance to observe those levels when they are available.
Observation is task-based and trainees are directed to focus on particular aspects of teaching/learning in each observed lesson. Notes written during/after observation also provide the Course Tutor with an indication of what is being learned from the experience.
• Input sessions
Input sessions tend to be seminars/workshops rather than lectures and cover three broad areas: language awareness, phonology and methodology.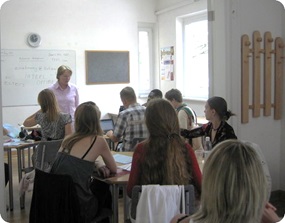 The Language Awareness sessions are an introduction to the structure and meaning of English (centred on verb forms) from an English language teaching (ELT) perspective. They will relate to some extent to the needs of TP, but they are intended to provide trainees with a basis for developing their pedagogical awareness after the course. Often these sessions require trainees to research a particular area of language and present their findings to the group.
The Phonology sessions are an introduction to the sounds of English – again from an ELT perspective. Sessions are devoted to word stress, sentence stress, pronunciation (vowels and consonants), rhythm, intonation and features of connected speech.
Methodology covers a wide range of classroom approaches, procedures and techniques. Topics include classroom management, the use of aids and resources, teaching and practising new language, developing language skills, adapting lessons to suit learners from different backgrounds, lesson planning and using course books, etc.
• Written work
There will be four assessed written assignments of a practical nature. In addition to these assignments, trainees are required to hand in their lesson plans for TP and language analysis sheets.
Reading references will be given throughout the course, but these will tend to be articles or chapters from books rather than entire books. Reading on CELTA is also of a practical nature – teachers' handbooks rather than theoretical material.
However, trainees are strongly recommended to do as much reading (especially grammar books) before the course as possible.